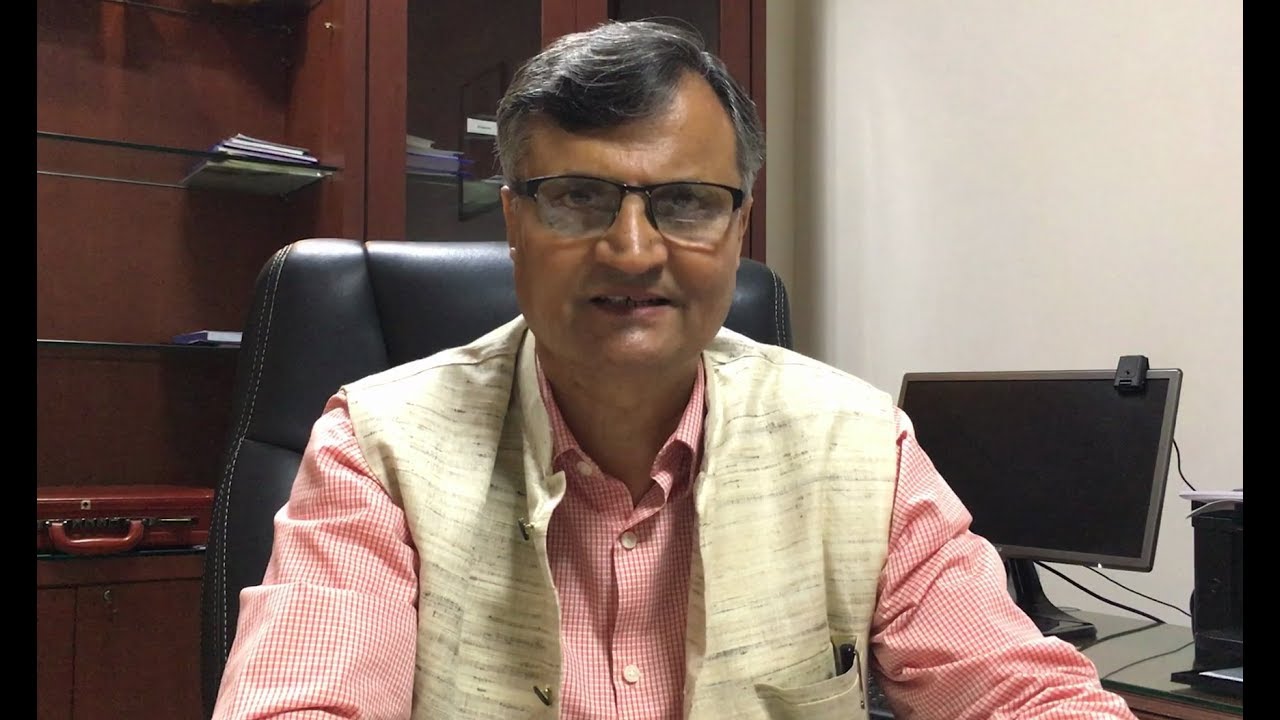 Prof. Ramesh Chand
Member, NITI Aayog
Profile
Dr. Ramesh Chand is a renowned Indian agricultural economist and a policy maker of repute. Over the last three and half decades, he has been actively involved in food and nutritional security related agricultural issues. Since 2015, he is a Member, National Institution for Transforming India (NITI) Aayog in the rank of Union Minister of State, Government of India. NITI Aayog, formerly known as the Planning Commission of India, is a policy think-tank, chaired by the Prime Minister of India. In this position, Dr. Chand is directly steering India's agricultural development agenda with major focus on food and nutrition security. He is also providing policy related inputs to the Ministries both of the Central and State Governments concerning land and water resources, SDGs, poverty alleviation, forest and environment, sustainable livelihood, smallholder development, food processing, value chain and agricultural marketing.
Dr. Chand is currently responsible for India's vision, strategy and action agenda for the agriculture sector, including the government's flagship agricultural program for doubling farmers' income.
He is also a Member of the Fifteenth Finance Commission of India, which determines devolution of tax resources between the Union Government and the States and recommends fiscal consolidation roadmap. Dr. Chand is also serving as Vice Chairman, Commission on Farmers' Prosperity, State of Uttar Pradesh, India.
Education
Dr. Ramesh Chand holds Bachelor's and Master's degrees in Agriculture from Punjab Agricultural University, Ludhiana and a Ph.D. in Agricultural Economics from Indian Agricultural Research Institute, New Delhi.
Academic and Research Achievements
Dr. Chand has served in eminent academic and research management positions including: National Professor at Indian Council of Agricultural Research, Principal Scientist at National Institute of Agricultural Economics and Policy Research, Professor at Institute of Economic Growth, University of Delhi, and Professor at Punjab Agricultural University, Ludhiana, India; Visiting Professor at University of Wollongong, NSW, Australia, and Visiting Fellow at Institute of Developing Economies, Chiba-shi Japan. He was Director of National Institute of Agricultural Economics and Policy Research, New Delhi for six years.
Dr. Chand has shaped the discourse on agricultural development and food security in India and Asia through his research and foresight analysis. He has published more than 120 research papers, seven books and ten policy papers. His research work focused on food policy, agri-markets, agricultural growth and development, small-holders' development, natural resource management, food and nutritional security, subsidies and investments, trade and WTO, and technology policy. Dr. Chand has led over a dozen research projects funded by international organizations like FAO, OECD, World Bank, UNCTAD, UNDP, Commonwealth, and UNESCAP. He writes regularly in major national newspapers and magazines and actively participates in media debates on agricultural issues.
Policy Making
Prior to being appointed Member, NITI Aayog, Dr. Chand chaired several high level committees of Indian government including the Planning Commission of India and the Prime Minister's Office. He developed a model for achieving 4% growth in Indian agriculture, which was implemented and achieved great results. He has impacted global agricultural policies and research through various roles, including Member of Board of Trustees of International Wheat and Maize Improvement Centre Mexico; Member of Policy Advisory Committee of Australian Centre for International Agricultural Research; Member of Food Security Committee of Global Food Security Council of World Economic Forum, Geneva. He has served as India's nodal officer on agriculture and rural development for SAARC and UNESCAP for 6 years and was responsible for preparing SAARC Agriculture Vision 2020. In addition, he has advised Government of India on G20 issues as a senior expert and participated in several G20 meetings during the Presidencies of France, Mexico and Russia. Dr. Chand has been instrumental in deliberations and preparation of policy recommendations at multiple international events across more than twenty countries on topics such as food and nutrition security, poverty, small farm development, trade and WTO, food and price policy, and agriculture growth and development.
Leadership and Administrative Roles
Guides and leads preparation of development strategy for 12 ministries of Government of India, and heads four Verticals of NITI Aayog since 2015. Regular interactions with Chief Ministers and Ministers of Agriculture of various States of India to promote policy reforms and implement development initiatives to improve agricultural growth, farmers' income, nutrition and sustainable use of natural resources.

Reviews the current status of the finance, deficit, debt levels, and fiscal discipline efforts of the Union and the States. Interacts with Chief Ministers and Finance Ministers of all States on fiscal issues.

Director, National Institute of Agricultural Economics and Policy Research, New Delhi. 2010 to 2015.

National Professor, Indian Council of Agricultural Research, New Delhi. 2006 to 2010.

Professor and Head, Agricultural Economics Unit, Institute of Economic Growth, Delhi University Enclave, Delhi. 2002 to 2004.
Special Assignments
Chaired several Committees/Working Groups on Agriculture, Food Policy, Food Security, Farm Income, Market and Prices and WTO constituted by various Ministries of Government of India and States.

Member, Steering Committee on Agriculture for 11th and 12th Five Year Plans, Planning Commission of India. Prepared model for 4% growth in Agriculture sector during 11th Plan.

India's Nodal officer for SAARC Agriculture and Rural Development matters for six years.

Prepared White Paper on Medium Term Priority Framework for FAO in India. 2009.

Chief Editor, Agricultural Economics Research Review, New Delhi. 2012-2015.

Member, India's delegation to G20 for Agriculture Group. 2011 and 2012.

Governing Body Member of SAARC Agriculture Centre, Dhaka.
International Role & Responsibilities
Member of the Board of Trustees of CIMMYT (International Maize and Wheat Improvement Center), Mexico. Since 2016.

Member of the Policy Advisory Council of the Australian Centre for International Agricultural Research, Canberra, Australia. Since 2016.

Member of the World Economic Forum's Global Future Council on the Future of Food Security and Agriculture (2016-2018).

Visiting Professor, University of Wollongong, Wollongong, NSW Australia. April to August 2000.

Visiting Research Fellow, Institute of Developing Economies, JETRO, Chiba-shi, Japan. May to September, 2003.

Senior Policy Subscriber to FAO RAP, Bangkok. June 2007 to May 2008.

Undertaken several projects as Consultant for FAO, UNESCAP, UNDP, UNCTAD, Commonwealth, World Bank and OECD.

Participated in several activities of FAO Rome and FAO RAP Bangkok.

Panelist in the session on Looking Forward with a New Mindset in a global event "Accelerating the End of Hunger and Malnutrition", of FAO and IFPRI, 28-30 November, 2018, Bangkok. Made a case to raise the nutrition norms, promote awareness and adopt holistic approach to address malnutrition.
Awards/Recognitions
Atal Bihari Vajpayee Award 2018 of Indian Economic Association for excellent contributions all through in academia, policy making and institutional building.

Rafi Ahmed Kidwai Award 2011 by the Indian Council of Agricultural Research for outstanding contribution in the field of Social Sciences.

Jawaharlal Nehru Award 1985 by the Indian Council of Agricultural Research in recognition of outstanding research contributions of Ph.D. thesis.

Fellow, National Academy of Agricultural Sciences, New Delhi.

Fellow, Indian Society of Agricultural Economics, India.

President, Conference of Indian Society of Agri Economics (2015).

President, Conference of Indian Economic Association (2019).
Dr. Ramesh Chand (age 63 years) is married to Mrs. Anita Bajarh – an educationist. He has travelled extensively around the world and has in-depth knowledge of international agriculture. Dr. Chand manages his family farm based on the concept of farming system and develops farm innovations. He is fluent in English, Hindi, Punjabi and spoken Urdu.