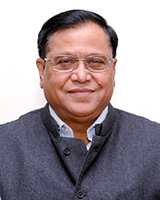 Dr Vijay Kumar Saraswat
Member, NITI Aayog, and Chancellor, Jawaharlal Nehru University
Dr Vijay Kumar Saraswat is a distinguished scientist with vast experience in defence research—in both basic and applied sciences—spanning several decades. 
He retired as Secretary, Defence Research and Development Organisation (DRDO), after more than four decades of government service. He holds a PhD from Osmania University and an ME degree from Indian Institute of Science, Bengaluru. 
Dr Saraswat has had an illustrious career and is credited with the indigenous development of missiles such as Prithvi, Dhanush, Prahaar, and Agni-5, and the two-tiered Ballistic Missile Defence system; the initial operational clearance of Light Combat Aircraft Tejas; and nuclear submarine INS Arihant.
As Secretary, DRDO, Dr Saraswat played a pivotal role in the: (i) establishment of command, control, communication, storage, transportation and deployment infrastructure for strategic nuclear assets to support the Nuclear Doctrine; (ii) flight evaluation of long-range subsonic cruise missile (iii) long-range radars for tracking incoming (enemy) ballistic missiles, command, control and communication network, command centres with decision support system for defending the National Capital Region against enemies' ballistic missile threats, (iv) established the Cyber Security Research and Development Centre for developing offensive and defensive technologies for cybersecurity.
As the Homi Bhabha Chair Professor and Consultant to IOCL R&D, Dr Saraswat evolved a roadmap for the development of alternative energy systems such as clean coal technologies; high-efficiency concentrated solar power systems, and bioenergy- and hydrogen-based economy. He is currently the Chairman of Research Advisory Council, IOCL R&D.
As Chairman of NTPC R&D Advisory Council, he prepared a similar alternative energy technology development plan focusing on clean coal technologies and advanced ultra-super critical thermal power plant to work on efficiencies better than 40% and highly reduced greenhouse emissions.
Dr Saraswat initiated a programme for the development of silicon photonics technology by setting up the Photonics Valley Corporation in Telangana—a Government of Telangana initiative in collaboration with Photonics Inc USA. This programme is expected to be a gamechanger for the next generation of networks, such as 5G and supercomputers.
As Chairman of the Committee for Development of Indian Microprocessors, he led a team to evolve the configuration of the M-Processor for IOT, Smart Cities and other ICT applications. He also laid out the strategy for development with DieTy, CDAC, IIT(M), IIT(B) and SCL Chandigarh. Two devices have already been developed by IIT(B) and IIT(M).
He has evolved a concept document for setting up the Indian Railway Research Institute (Shresththa) for Indian Railways, which would propel indigenous designs and manufacturing in programmes such as high-speed rail system and dedicated freight corridor and usher in a new era of R&D in the Railways.
As Member, NITI Aayog, Dr Saraswat initiated the 'Methanol Economy' programme for transportation, energy generation and production of chemicals and fertilisers, etc. To this end, production agencies, academic institutions and petro-refineries have been brought together to further the cause. As part of the initiative, M-15 gasoline blend, methanol cooking stove, methanol-fuelled propulsion for inland waterways, and methanol-fuelled gensets are being introduced in the country. At the academia and industry levels, R&D in the gasification of high ash content Indian coal has been undertaken. 
Dr Saraswat also chaired a committee on technical textiles and prepared a roadmap for the futuristic growth of this sector in India—focusing on the promotion of indigenous production of technical textiles and fibres, such as carbon and aramid, for strategic and ballistic needs, and laying due emphasis on reviving R&D on this sector.
He has also chaired a committee and submitted a report titled 'Roadmap for Make in India in Body Armour', release of Indian standards on body armour by BIS, R&D work on carbon nanotube, etc.
Dr Saraswat led an empowered technical advisory committee for the development of national super computing systems. Configuration and strategy for development have been evolved and the programme has been launched as a multi-organisation mission.
He is the recipient of many awards, including the Padma Shri (1998) and Padma Bhushan (2013). He has been conferred honorary doctorate by more than 25 universities, most recently by Jamia Hamdard (2018).