Reinvigorating Sports in Rural Areas
Abstract:
The recent success of India at the Olympics is a commendable achievement – with many firsts added to the kitty. The athletes from rural India remain the heroes of this success. Many of these sports find their roots in the ancient Indian tradition of sports. In recent times, the Government of India and State governments have taken multiple initiatives to groom athletes for professional sports. However, there is a long way before India emerges as a sporting nation in its truest sense. Sports have to be a part of a child's growing up. The National Education Policy 2020 offers a window of opportunity to integrate sports as a non-alienable part of the curriculum in schools and colleges. The network of schools and colleges makes a perfect platform to scale sports to reach each household. The essay argues that with an initiative like One State One Sport, both – scale and future champions can be created.
Introduction:
Tokyo Olympics has been historic for India – an event that will be cherished forever. Many 'firsts' were achieved, and medal droughts ended – India bagged its highest ever medals (7), Neeraj Chopra brought India its first athletics gold in men's javelin; India ended a 41-year medal drought in hockey by winning a bronze. While Meera Bai Chanu lifted a billion Indian hopes with a silver medal at the Olympics, she also gave India's first-ever opening day medal at the Olympics.  Ravi Dahiya, Bajrang Punia, and Lovlina Borgohain wrestled and boxed out to win a silver and two bronzes at India's most decorated Olympics. A common thread that binds these athletes – apart from their spirit of excellence and service to the nation – is their rural background. It's a testimony to the fact that rural India has been a powerhouse of extraordinary talent. Rural India is abundant with sports and games which are local and unique in each state. These games and sports have served multiple purposes – keeping people fit, maintaining harmony, channelizing the youth's energy in constructive areas, keeping them away from substance abuse, and pulling the youth out of poverty among many other benefits. The Government of India, in recent years, has taken several initiatives such as Khelo India, TOPS Scheme, etc to build India as a sporting nation with a great amount of emphasis in the rural areas. While these initiatives are commendable, there is a long way to go in creating a bustling sports culture in India – rural and urban both. In this essay, we explore the trajectory of sports in India (with a focus on rural sports and rural India), the intrinsic and extrinsic values of sports, pathbreaking reforms taken by states and the central government, linkages between education and sports in the light of National Education Policy (NEP) 2020 and suggest few measures to reinvigorate and institutionalize rural sports through policy measures.
Rural Sports in India: Ancient to Modern
Sports have always been a part of the common life in India for ages. There are several pieces of evidence of the existence of vibrant sports activities in India. Our epics like Ramayana and Mahabharata are full of incidences of sports such as archery, wrestling, horse-riding, chariot-racing, etc. For instance, wrestling has been a highly popular sport even during the times of Mahabharata. Known as Malla-yuddha, it saw participation from legendary characters such as Bhima, Balram, and Jarasandha – who have been mentioned as the greatest wrestlers in the epic. Today, India is known as a powerhouse in wrestling with several outstanding accolades gained at the international fora – the commonwealth games, the world championships, and the Olympics.
One of the greatest things to have happened in the wrestling world is the evolution and growth of female wrestling. This one development has dismantled the concept of females as the fairer sex --often used to denote the fragility and physical weakness of women --  and challenged the gender role and occupation for women. The young girls and women from rural India have role models --who are like them, come from similar backgrounds, and overcame challenges to succeed. The legend of the Phogat sisters has changed the outlook of patriarchs, many have become champions of gender equality and promote girls in sports. It is no surprise that a new generation of female sports wrestlers like Sakshi Mallik (the first Indian female wrestler to win a medal at the Olympics) have come up, performing exceedingly well at the national and international forums. From ancient times till date, wrestling continues to enthrall the youth and has emerged as one of India's strongholds in modern sports times.
It's a great achievement that many of these sports still survive and thrive in India. Some of the other early rural sports which have withstood the tide of time and continue to attract youth from rural areas have been discussed in the following section.
a. Mallakhamb: The Ultra-Gymnastics 
Mallakhamb is an ancient Indian version of Gymnastics where a gymnast performs aerial yoga and gymnastic posture atop or with a standing pole. The sport is hugely popular in rural pockets of Madhya Pradesh and Maharashtra and requires immense stamina, practice, and discipline to perform. One of the earliest written descriptions of Mallakhamb can be located in the memoirs of the Chinese traveller Huen-Tsang dating seventh century CE. He recognizes Prayagraj as a site where Hindu ascetics used to climb poles as a yogic exercise. He states that Hindu ascetics climbed the top of a pole situated at Prayagraj clinging onto it with one hand and one foot while other hand and foot stretched out in the air and watched the sunset with their heads turned right as it set which indicates a solar rite . In modern times, the sport of Mallakhamb was formally institutionalized in the year 1958 when it was introduced as a sport in the National Gymnastics Championship followed by the first National Mallakhamb Championship in 1962 at Gwalior, Madhya Pradesh. From there on the sports has grown in its reach and appeal so much so that the State Government of Madhya Pradesh declared Mallakhamb as the State sports in 2013. The Mallakhamb World Championship 2019 held in Mumbai attracted participants from 15 countries such as the USA, England, Germany, France, Japan, Singapore, Italy amongst others. Such is the popularity of Mallakhamb that top performers from India were to perform Mallakhamb at the Tokyo Olympics but couldn't do so because of restricted guidelines; it was performed in the Olympics for the first time in the year 1936.
b. Kalaripayattu: The Ancient Indian Martial Arts
Kalaripayattu, or simply Kalari, is an ancient Indian martial arts form that can be traced back to the Sangam period in southern India. A scientific sport, it requires great mind-body coordination and agility using kicks and swings while attacking and protecting with spears, shields, or swords, etc. It's a martial arts training used to prepare warriors in ancient times. But today it's practiced as a competitive sport and attracts youth mainly from Kerala. It follows a guru-shishya parampara where students (shishya) train under a master (guru) in training centers (called Kalari). Till 1936, the Kalari training continued as an oral instruction (vaytharis), and then it was codified in written form as a book and descriptive writings followed at scale by 1953 leading to the popularisation of the sports. The Kerala Government has established the Kalaripayattu Academy in 2021 which will offer training of Kalari in a formalized way through a dedicated syllabus that has been crafted for the purpose.
c. Qila Raipur Sports Festival: India's Rural Olympics
Qila Raipur Sports Festival, India's Rural Olympics, is an annual sporting event that promotes local rural sports of Punjab through competitions in the district of Ludhiana, Punjab. The brainchild of Inderjeet Singh Grewal, Qila Raipur Sports Festival was first held in 1933 to bring together people and promote harmony through sports. The sports festival brings a right unique mix of professional sports as well as rural sports played for mere pleasure. The athletic events include shot put, hockey, kabaddi, track races. The other games include tug of war, horse races, horse acrobatics, etc. The festival aims at giving a platform for the budding talent in professional games as well as creating a sporting culture in the area. The festival is tied to the culture of the area – folk songs, bhangra, local food -- which are on full display during the event. It acts as a unifying element and keeps people closer to their roots. These instrumental values of sports are intangible and often get lesser recognition in the noise of professional sports.
In addition to the ancient Indian games, modern India has seen the rise of Indian players at the global level in several other professional sports predominantly played in the rural parts of the country – be it kabaddi or hockey, or archery. There are several outstanding initiatives taken by various State Governments and the Government of India to nurture the sporting talent in rural India as discussed further.
Initiatives to Strengthen Sports in Rural Areas: A Pulse Check
The Government of India (GOI) took a historic step by starting a targeted scheme to achieve top results in the Olympics games. The Target Olympic Podium Scheme or TOPS was launched in 2014 under the aegis of the Ministry of Youth Affairs and Sports (MYAS), GOI to provide financial assistance and other help to athletes in their pursuit of medals in the Olympics and other international sporting events. Sports such as Archery, Badminton, Boxing, Hockey, Shooting, and Wrestling have been recognized as 'high priority' schemes under the scheme.  
The top-performing athletes are selected by a committee who are then provided customized training with top coaches at modern and well-equipped sports facilities and institutions. The contribution of the TOPS scheme in the medal tally in the international forum has been nothing less than big success. The Rio 2016 Olympics saw TOPs awardees P V Sindhu and Sakshi Malik clinching silver and bronze respectively for India. The paralympians covered under TOPS won four medals at Rio including two gold medals. The TOPS scheme's impact was best to be seen at the 2018 commonwealth games where 47 out of the 70 medals won by India were bagged by TOPS awardee athletes.
The Tokyo Olympics has been the greatest Olympics for India in terms of the medals secured. Believe it or not, all the athletes including the paralympians were covered under the TOPS scheme. In addition to best coaching and equipment, each athlete was provided with INR 50,000 monthly out-of-pocket expenditure which could be spent on their diet or training or any other way the athlete desires. The Government of India went the extra mile to support its contingent of paralympians. Avani Lekhara, the double medalist, was provided with a computerized digital target and an expensive air rifle to practice at home while Bhavina Patel, the silver medalist, was equipped with an Ottobock Wheelchair and a Table Tennis robot called Butterfly- Amicus Prime. No wonder, the 47 members Paralympic contingent converted the opportunity provided under the TOPS scheme into golds, silvers, and bronzes – a total of 19 medals for India at the Tokyo Olympics.
While the TOPS scheme aimed at polishing existing talent for higher results, the Government of India has designed a future-looking scheme to develop a pool of talent from the remotest part of the country through the Khelo India Scheme. Aimed at mainstreaming sports as a tool for national development, economic development, community development, and individual development, the Khelo India scheme was launched in 2018 with 12 verticals.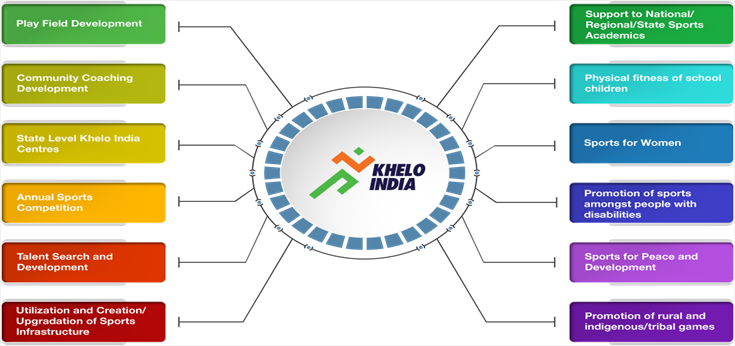 Under the Khelo India Scheme, talent search has been started at the grassroots level in two categories: a) Sports potential talent identification and b) Proven talent identification. A zonal approach has been taken by the government in the identification of talent. Grassroot Zonal Talent Identification committees have been formed to scour the remotest part of the country for spotting talent across 20 disciplines in the age group 8 to 14 years, wherein the country has the potential /advantage to excel at the international level.

Under the 'Talent Search and Development' vertical of the Khelo India Scheme, Khelo India Athletes identified and selected under the scheme are provided annual financial assistance of ₹ 6.28 lakh per athlete per annum which includes ₹ 1.20 lakh per annum as Out of Pocket Allowance and ₹ 5.08 lakh for other facilities like coaching, sports science support, diet, equipment, consumables, insurance charges, etc. Further, each Khelo India Centre notified under the Scheme at district levels in various States/Union Territories are eligible to receive ₹ 5 lakh per discipline as a one-time grant and ₹ 5 lakh per discipline as a recurring grant .
Under the scheme, Khelo India Games are organized to provide a platform to the budding talent at the school and university level. Till now, three such games have already been organized and the fourth one is going to be held in Haryana. Seeing the initial impact of the scheme, the Government of India has furnished an Expenditure Finance Committee (EFC) memorandum to expand the scheme from 2021-22 to 2025-26 with an estimated budget of 8750 crores. While the central government has taken a reform trajectory to transform India into a sporting nation, the role played by the States is equally important to nurture a sports culture.
Case Study: Haryana – The Incubator of SportStars from Rural India
In the recently completed Tokyo Olympics, Haryana sent the maximum Olympians in the Indian contingent -- 31 athletes, which is nearly 25% of the total contingent. Three of them brought gold, silver, and bronze respectively and many were part of the victorious Indian hockey team. The seeds for Haryana's success were sowed back in the 1980s when Haryana hired coaches for different sports across the State. Though things moved on, the real thrust came with the formulation of a Sports Policy in 2006. The policy laid down the foundations for Haryana's success with a focus on spotting, nurturing, and polishing talent from the State for national and international events.
Today, Haryana has a formal institutional mechanism called 'Play 4 India' under which each student in school is encouraged to take upon sport. With the motto 'catch them young, catch them right', Haryana conducts Sports and Physical Aptitude Test (SPAT) is in all the schools across the state to identify the high potential athletes in 8-19 age groups. Participants are administered a battery of standardized tests in three rounds and the qualifiers enter the final round called the Sports and Physical Exercise Evaluation and Development  (SPEED) Test where they select a particular game based on their aptitude and counselling. Those who clear the SPEED test are admitted into  Sports and Physical Aptitude Continuous Evaluation (SPACE) where they are trained into sports academies . A monthly stipend of INR 1500 and INR 2000 per month is awarded to the students in the age group 8-14 years and 15-19 years respectively. In addition, cash rewards for successful athletes right from national champions to Olympians have been given by the Haryana State Government. Haryana's tryst with sports at the school level is an ideal recipe to create a continuous supply of highly talented sportsperson of world-class caliber as well as promoting a sports culture at scale.
National Education Policy 2020: An Opportunity to Transform India as a Sporting Nation
In his inaugural address at the second Khelo India winter games, the Hon'ble Prime Minister of India remarked that sports have been given a place of pride in the recent National Education Policy (NEP 2020). An extra-curricular activity, Sports, now will be an integral part of the school and college curriculum with grading in sports counted in the education of the children.
The school education system in India caters to around 26 crore students through a network of 15 lac schools with ~18 crore enrolments in rural India, thus paving the way for scaling sports across the country. The existing schemes of the Government of India such as the Samagra Shiksha, Eklavya Model Residential Schools, Kasturba Gandhi Balika Vidyalaya, etc have a special emphasis on promoting sports in the remotest part of the country. Samagra Shiksha, the flagship scheme of school education in India has components that exclusively focus on providing sports equipment to schools and supporting the Khelo India Scheme.
The Kasturba Gandhi Balika Vidyalaya Scheme has set up at least one residential girls school in every educationally backward block of India. The scheme provides access to a high quality holistic education to girls from marginalized communities -- SC, ST, OBC, BPL, and minorities – from class VI-XII in residential mode. Sports is a very important component of the scheme where facilities for sports such as hockey, kabaddi, kho-kho, badminton, volleyball, etc have been developed. Sports meets are conducted to provide a platform to girls to excel in sports.
The  Eklavya Model Residential Schools scheme of the government is targeted at providing holistic education to the students from ST category in tribal areas of the country. There is a lot of focus on sports in these schools. Centre of Excellence for Sports (CoE for Sports) has been planned and implemented across Eklavya Model Residential Schools. This Centre of Excellence will have specialized state-of-the-art facilities for one identified individual sport and one group sport in each State with scientific backup along with specialized training, boarding and lodging facilities, sports kit, sports equipment, competition exposure, insurance, medical expenses, etc. as per norms of Sports Authority of India.
It has to be emphasized that sports is a scientific discipline and requires a strategic roadmap to develop future talent and infuse a sporting culture in India. There are certain sports where Indians have a comparative advantage either because of their genetic build or the prolonged assimilation within certain sports. It might be useful to start a campaign namely One State One Sport, wherein each state government will identify a major sport in which it has a competitive advantage along with other sports which may be accorded a little lesser priority.
Conclusion:
The tradition of sports is deeply rooted in the Indian culture dating a few millennia back. Over the years India has emerged as a major force to reckon with in certain sports in the international arena. However, the sporting culture is limited to few pockets of the country which also happen to be the nursery of athletes in India. Recently, the Government of India has taken many initiatives such as the TOPS, Khelo India, Fit India, etc which has the potential to transform the sports landscape of India. The recent successes at the Olympics, commonwealth games, and world championships have been extremely encouraging. Parents and youngsters are increasingly looking at sports as a career in the country. Right now we are the inflection point of a vibrant sporting culture in India which is only to rise steeply given the support and ecosystem building done by the Indian Government.
Dr Prem Singh is Adviser and Piyush Prakash is Senior Associate, NITI Aayog. Views expressed are personal.
This article was originally published in the November edition of Kurukshetra journal.
***

Irwin, John (1983). "The Ancient Pillar-Cult at Prayāga: Its Pre-Aśokan Origins". Journal of the Royal Asiatic Society of Great Britain and Ireland. 115 (2): 253–280
Written reply dated 02.08.2021 in Rajya Sabha by Minister of Youth Affairs & Sports Shri Anurag Thakur
Haryana Sports and Physical Fitness Policy, 2015
Thumbnail Image